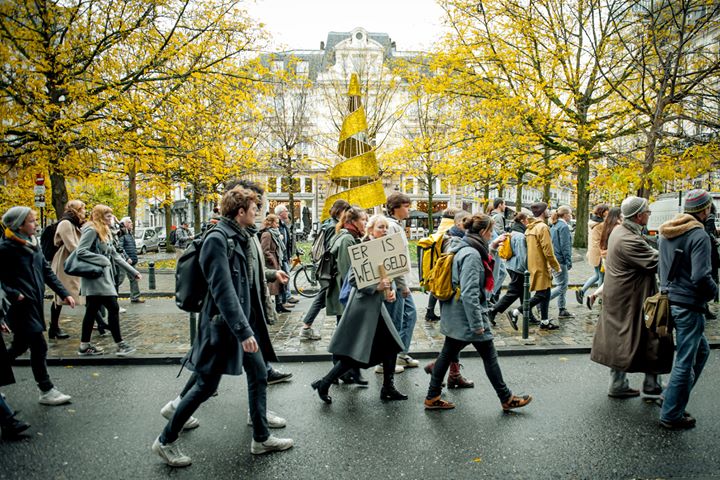 Dear friends,
Our last action did not quite deliver what we expected: the Minister and all majority parties in the Culture Commission of the Flemish Parliament last week bluntly voted away all amendments to reverse the drastic cuts in the arts. Our delegation was treated to lengthy presentations on less urgent matters, a deliberate exhaustion strategy, and it was not until 7 hours after the start of the meeting that the Minister eventually told the Committee that he was standing firm and would go on with the cuts.

The Minister indeed made a vague insinuation that the 60% cut of all project funding would 'possibly' be compensated during a budget review in March 2020. However, he immediately stated that this extra money for projects "would have to come from the current arts budget" (two sentences later in his speech, it became the slightly broader culture budget, which in addition to the arts also includes heritage, for example), in other words: other art or culture players will have to pay for it. And no, he absolutely could not guarantee that those extra resources for projects would actually be made available.

State of the Arts has always refused to subscribe to a strategy of divide and rule in which it is the arts sector that must save the arts sector. Investing in art is investing in a warm, supportive and progressive society. The amount that the Flemish government makes available for all art institutions, organisations and projects is particularly humble: 0.35% of the entire Flemish budget now, soon barely 0.31%. This year, Flanders invests five times as much money to pay energy bills of large polluting companies such as ExxonMobil and Total (from the climate fund!) than it does in all art projects combined. After the cuts, this will be no less than twelve times as much! As far as we're concerned, redistribution of budgets should be done right here, not within the arts budget.

In the meantime, also other sectors and organisations that consider human wellbeing more important than making profit are being targeted by similar harsh austerity measures. The overview of all these measures does not only make us sad, it also worries us enormously: this government only seems to want to invest in those who reproduce their convictions, serve their electorate or strengthen big capital.

At the moment, we have not received any positive signal or any guarantee that the Minister and his government will reconsider these austerity measures in civil society. So let us be loud and clear: we will continue our protest and our actions. We will use our voice for and with our colleagues in the independent press, the ethnic-cultural minority organisations, the sociocultural sector, the welfare- poverty relief sector, and other affected sectors.

This has become much more than "just" a question of subsidies: it is about this government's policy. We ask that a government uses public funds in priority for projects that contribute to the wellbeing in society, everyone's wellbeing in society. We will continue to fight for a warm, fair and solidary Flanders, and we cordially invite everyone to voice that a different policy for Flanders is both desirable ànd possible.

State of the Arts


JOIN US IN THE FOLLOWING ACTIONS
Knaldag – Vuurwerk
Thursday December 5, 3 pm, Martelaarsplein, Brussels
We stand shoulder to shoulder with VRT and civil society on the doorstep of our Prime Minister's cabinet. Together we will show what we have to offer. more info
– Bring something to eat to share.
– Bring something that represents your creativity and how you contribute to society.
Share the Facebook event and bring your friends.

United for Climate – Human Chain
Sunday 8 December, 1 pm, Brussels Central station
As a cultural sector, we are in line with the human chain of the climate movement. Hand in hand around all our parliaments, for a different climate. You can find us on the square next to BOZAR, with music.
More info
Hear My Voice
Thursday December 19, 7pm, Flemish Parliament
While the Flemish Parliament votes on the announced savings in culture, arts, care and education, we for a mega-choir. No tweets, no screaming, no protest signs, we sing together to make our voices heard. We drown out the vote with our simple humanity. Be there!