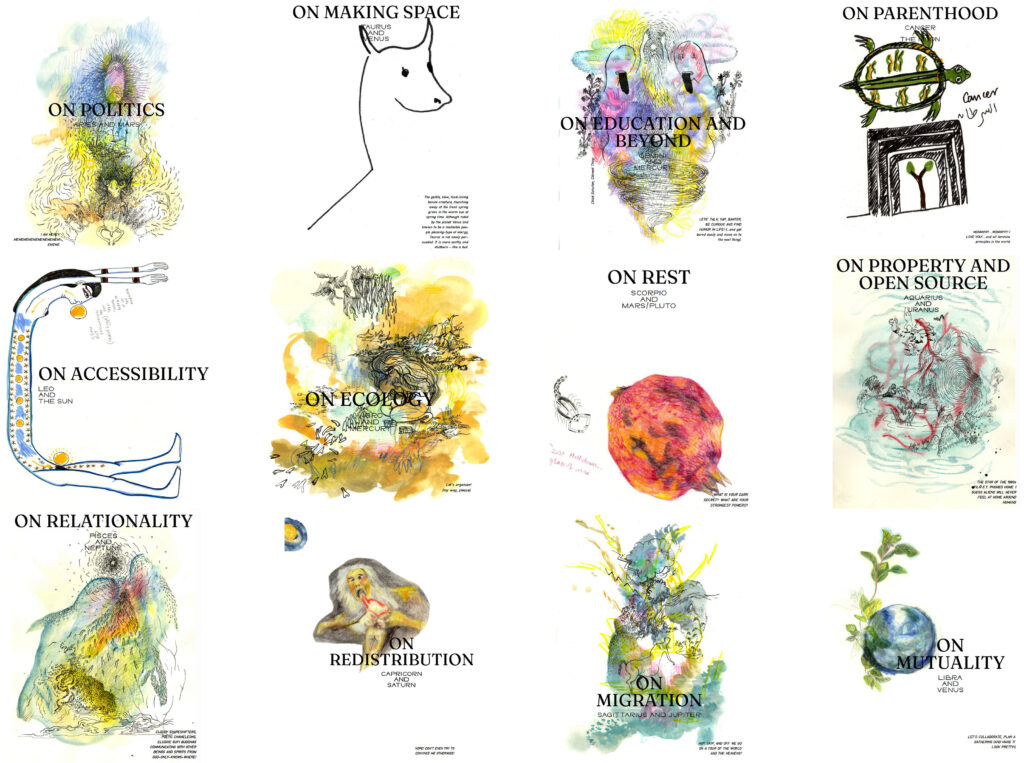 […] This book is a wheel – a wheel of kinship. Place it vertically in front of you, open its pages and spread them evenly around its spine. The wheel of kinship is circling around an essential working field of our society – the field of the arts. […]
The Fair Kin Arts Almanac is made with the voices of more than 130 artists, writers, and activists spinning their thoughts and experiences into 12 chapters around a year. Surprising perspectives, recipes, sound practices, and reflections around ecology, parenthood, the need to rest in a life that never stops, the urgency for space and infrastructure for artists, redistribution of resources, accessibility of the sector, artistic involvement in politics and much more.
Society cannot be devised without the connectivity and relational perspectives of kin.
THIS BOOK IS A WHEEL – A WHEEL OF KINSHIP
The FAIR KIN ARTS ALMANAC is a circular book, filled with perspectives, recipes, astrological wisdom, ideas, games, proposals and in depth reflections around topics of social political relevance. For the Arts and beyond.

The book was edited by a team of 13 editors that in turn each worked with artists, art workers, writers and academics. Chapters range from  politics, making space, education, parenthood, accessibility, ecology, mutuality, rest, migration, redistribution, property & open source and relationality.
A FAIR ARTS ALMANAC BECOMING KIN
'Fair' was a handy term – for quite a while. People intuitively understand what it is about, and everyone seems to agree with fairness. We assume it is associated with justice, equality, chances for everyone, good practice, respect and tolerance, non-violent behavior, etc. things we might generally all be in favor of. But many of these concepts are blurry and hard to grasp. [….] Fairness is a very generic term, especially when attempting to take care of each singular situation.

Eventually we also found ourselves convicted with the term's etymological roots and cultural history – and this was a hard landing! 'Fair' comes from blonde, or white and is inseparable from the political history of Western hegemony and the idea of 'good practice' being the one rooted in Western culture.

Given its imprecision and legacy forced us rethink its use and annotate the term and replace or contextualize it with one we thought much more appropriate for what we wanted to express with the book. In a conversation between Kobe Matthys and Omar Jabary Salamanca, they came up with the proposition to use the concept of kinship. It intuitively made sense because it immediately connects to terms like solidarity, relationality, ecosystems, diversity, cooperation etc. The inclusivity of the expression 'kin' and 'kinship' – pointing at the value of community and relationships – is for sure what we were looking for with this Almanac.

DESIGN
From the beginning, we conceived the FAIR KIN ARTS ALMANAC as a co-editing process. But how do you do this: create a book together?

The Brussels based studio Open Source Publishing (OSP) created an amazing tool to effectively make this happen. Based on their practice to see and make design, not from a user interface, but from a self-empowered programmer's perspective, they proposed a pad-based structure which allows writers and designers to interconnect. Simple codes allow the writers to predefine several aspects of the layout and they can immediately see the outcome by switching into a preview mode. The team of OSP, Gijs de Heij and Sarah Magnan, were therefore involved from a very early state of the process and were able to create and adapt the design to the appearing articles.

This working process  also allowed us to print draft versions of the FAIR KIN ARTS ALMANAC for early pre-reading and collective editorial sessions in public events.

LAUNCH
Please join us for the Launch on Saturday, september 9th.
We'll start at 11h with a brunch in the Zenne Garden in Anderlecht from which we will leave at 12h30 for a parade through Brussels, moving – with stopovers at La Vieille Chéchette, Hectolitre and Kunstenpunt in the Ravenstein Galerie – to the festival center of the Theater Festival at the KVS. 

For a detailed program please check here.
DISTRIBUTION OF THE ALMANAC
> in the form of conversations
Like the first edition, the FAIR KIN ARTS ALMANAC is meant to make us speak and think out loud about urgent social topics. Together. In the coming months, SOTA will therefore (co)organise a series of events around the topics we address.
SOTA Foyers at the Beursschouwburg (14 Sep, 12 Oct, 02 Nov)
Fair Practice, un dialogue durable – Fair Practice, een duurzame dialoog, in co-production with La Fap (01 Oct in NICC in Antwerp; 19 Oct in Liège, Nov in Kiosk in Ghent, Dec in Vecteur in Charleroi)
A detailed program will be announced  on our website.
THANKS
This almanac was made possible by the support of many people coming to the almanac events and sharing their stories, questions and thoughts, helping us to collectively navigate the narrative of the publication and its chapters.

We want to thank all the writers and contributors and the people who worked on effectively realising the book: Justine Maxelon, Kobe Matthys, Nicolas Galeazzi, Olave Nduwanje, Josefien Cornette, Laura Oriol, Charlotte Gruber, Katrien Reist, Erika Sprey, Gosie Vervloessem, The Post Collective, Wouter Hillaert, Mia Malvær, Kevin Fay, Sarah Cale, Open Source Publishing (Gijs de Heij and Sarah Magnan), May Abnet, Catherine Hu, Joris Vermeir and Samah Hijawi, Freek Lomme of Set Margins, Axel Claes of Chez Rosi.
And the organisations that supported us financially: Beursschouwburg, Buda Kortrijk, Het Bos, KAAP, Kaaitheater, Kunstenpunt, Monty, nadine, STUK, Vlaamse Gemeenschap and Vlaamse Gemeenschapscommissie, VIERNULVIER, wpZimmer and Z33.

We thank Het Theater Festival for supporting the publication launch.