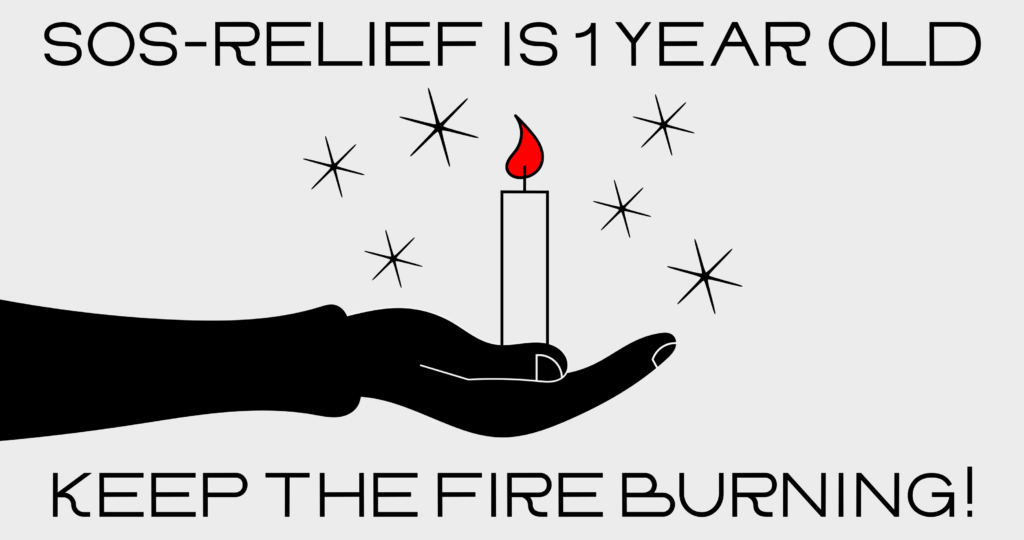 EN: SOS-Relief is one year old! During that year, almost 200,000€ changed hands, using this person-to-person solidarity tool. People helped other people to pay the rent, pay the bills and cover basic living costs. THANK YOU to EVERYONE who participated.
But it doesn't end there. People are still in need. Can you spare something this month? Please join the SOS-Relief community for change and solidarity through this link and help someone out today!
NL: SOS-Relief bestaat één jaar! In dat jaar is al meer dan 200.000 euro van persoon tot persoon gegaan via deze online tool die rechtstreekse solidariteit mogelijk maakt. Mensen hielpen andere mensen om de huur te betalen, de rekeningen te betalen en de basislevensbehoeften te dekken. Dank aan IEDEREEN die heeft deelgenomen. 
Maar het houdt hier niet op. Er zijn nog steeds mensen in nood. Kan je deze maand iets missen? Sluit je dan aan bij de SOS-Relief gemeenschap, die staat voor verandering en solidariteit, en help via deze link vandaag nog iemand uit de brand!
FR: SOS-Relief a un an! Durant cette année, près de 200.000 € ont changé de mains, grâce à cet outil de solidarité de personne à personne. Des personnes ont aidé d'autres personnes à payer leur loyer, leurs factures et leurs frais de subsistance. MERCI à TOUS ceux qui ont participé.
Mais cela ne s'arrête pas là. Des personnes sont toujours dans le besoin. Pouvez-vous donner quelque chose ce mois-ci ? Rejoignez la communauté SOS-Relief pour le changement et la solidarité via ce lien et aidez quelqu'un aujourd'hui !
Another year, a new Fair Arts Almanac!
In 2021 State of the Arts will organize monthly meetings again. Every last Saturday of the month we will gather in another city or online, around another hot topic in the arts and society. Change starts by exchanging again! find out more