State Of The Arts (SOTA) invites you to our open meetings again! SOTA advocates for cultural policies that are informed and attuned to the actual needs of artistic practices. SOTA is particularly committed to improving the conditions and working practices of independent artists and art workers.
Landschapszorg? Een veldgesprek SOTA Open Meeting #05 ism Monty (10/05)
Waar moet het heen met ons kunstenveld? Het nieuwe Kunstendecreet beloofde zorg voor het landschap. Met eerlijke en faire kansen voor wie hier wortels wil slaan. Om samen tot een divers veld te komen, met de nodige uitstraling en aantrekkingskracht…. Lees meer
SOS RELIEF: ONE LAST PUSH!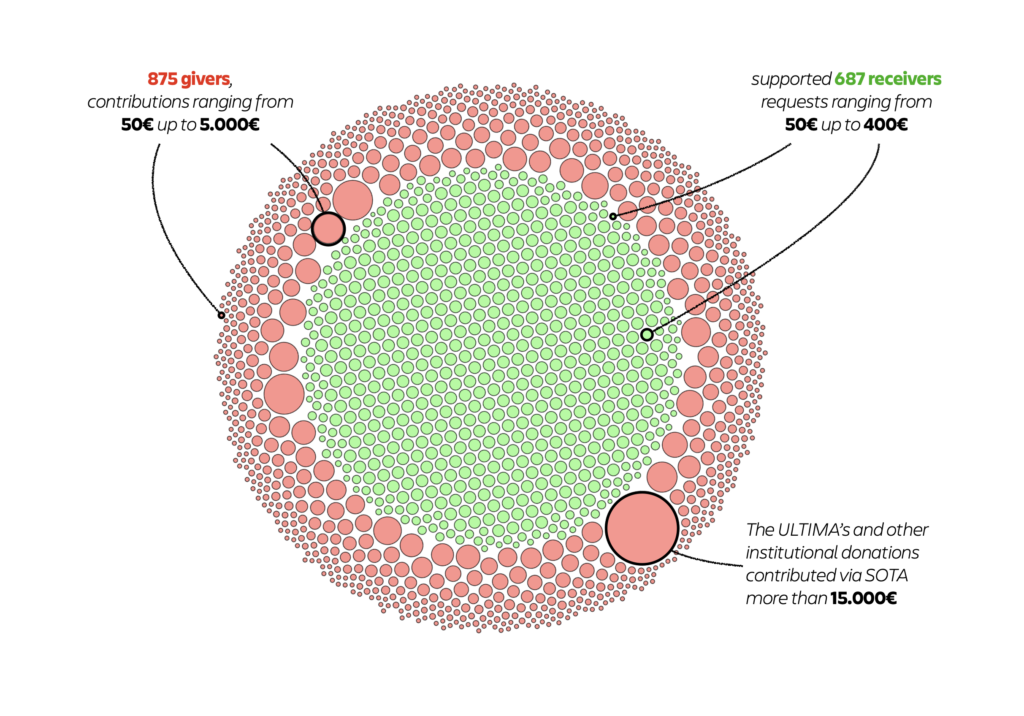 ONE LAST PUSH!
Since we started SOS Relief in April 2020, €230,000 has changed hands. A total of 874 people have given to 783 people in need. However, 88 people are still waiting for a combined total of approximately €30,000.
In some joyful cases, people who received SOS Relief in the past, found themselves in better circumstances later on. Our question today is: are you such a person? If so, would you be able and prepared to become a giver now? If yes, PLEASE CLICK HERE TO GIVE.
PAUSING THE REQUESTS, NOT TURNING A BLIND EYE!
We have made the difficult decision to pause requests until everyone who has already asked for relief is matched. We know that there are many people still in need of support, but if someone puts in a request now, they would have to wait around 6 months. This would not be emergency relief, and it creates an expectation that we cannot meet.
We are not turning a blind eye to people in need. The request tool is now open for people in need to share their stories with us. Testimonies of individuals are crucial to help us make policymakers aware of the realities people live.
NEW AND IMPROVED.
Our next assignment is to restructure SOS Relief to make it more sustainable. This is the project for the new year: decentralizing the workload, solving the problem of the waiting list (i.e. build up of requests to receive), and making a shareable, open source version of the tool that other communities can use.
In the meantime, we are going all out to close the gap! Please join us again if you can.