REPORT ON THE GAP
On April 20th, around 80 (ex)students, cultural workers and art school teachers gathered in Monty for the SOTA Open Meeting 'How to bridge the gap between art school and working field?' After a short welcome, everyone could choose one discussion table out of eight tables, to dig deeper in one of the seven proposals that were published in an open letter of graduated art students in rekto:verso some days earlier. There was also one free table for better ideas. 
Here you find the report of the evening. 
For SOTA, this open meeting is the start of a new working group on this topic, trying to realize at least some of these ideas. At the end of the meeting, every participant could fill an engagement form to indicate how they want to be involved. If you still want to be kept informed or join the working group, indicate your preferences here.  
20 april: hoe het gat dichten tussen kunstschool en kunstenveld? Een energieke brainstormsessie op zoek naar oplossingen 
Voor veel kunststudenten is afstuderen als springen en vallen tegelijk. Het voelt als een lege ruimte betreden – of noem het gerust 'Het Gat'. Hoe een netwerk uitbouwen, jezelf zichtbaar maken, je praktijk overeind houden, een inkomen fiksen, studio- of repetitieruimte vinden en kunnen betalen, je werk tonen bij instellingen of galeries? Dit is meer dan een vraagstuk van alle tijden en leeftijden.
Kunstscholen lijken er niet in te slagen om deze overgang mee te ondersteunen, terwijl de sector heel moeilijk te betreden blijkt zonder 'de juiste contacten'. En zo krijgt het gat tussen de school en het werkveld iets van een filterblokkade die net de jonge kunstenaars met de minste middelen uitsluit. Vraag maar eens rond: veel ex-studenten voelen zich gedesoriënteerd, verloren, uitgesloten en zonder hoop.
Laten we het erover hebben. Niet alleen om te klagen, maar om oplossingen te vinden. Met lichte aandrang nodigen we (ex-)studenten, schoolmedewerkers en cultuurwerkers uit op:
HOE HET GAT DICHTEN TUSSEN KUNSTSCHOOL EN WERKVELD?
Woensdag 20 april, 19u30-22u00 in Monty (Montignystraat 3, Antwerp) – organisatie: SOTA & ex-studenten.
Schrijf je hier in en nodig collega's uit
Wat kan er anders? Hoe kan die kloof een brug worden? Hoe kunnen scholen hun verse alumni nog even blijven ondersteunen? Hoe kan het veld nieuwkomers echt welkom heten in zijn landschap? Hoe kan al die informele kennis beter circuleren? Kan dit vraagstuk ook dienen om al bestaande vormen van solidariteit in het veld te versterken?
We beginnen de avond met enkele (min of meer) concrete voorstellen. We nodigen je uit om deze ideeën aan verschillende praat- of werktafels verder te helpen verfijnen, afhankelijk van je interesse. We zien deze avond als een eerste stap om concrete oplossingen vorm te geven, groot of klein.
Je staat hier niet alleen voor.
Wij heten je van harte welkom.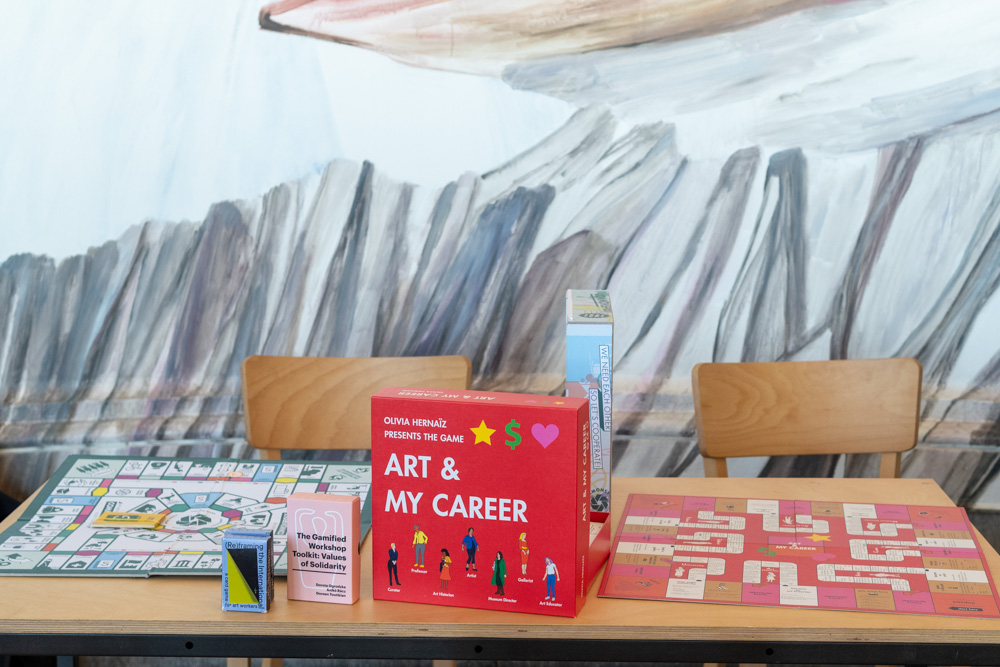 ENG: HOW TO BRIDGE THE GAP BETWEEN ART SCHOOL AND ART FIELD?
An energizing brainstorm session on solutions
For many art students, graduating is jumping and falling at the same time. It feels like taking a step into an empty space – you can even call it 'the gap'. How to build a network, sustain your practice, make yourself visible, create an income, find and afford a studio or rehearsal space, present your work to institutions or galleries? This is more than a problem of all times and all ages.
Art schools seem to fail to support this transition, while the working field appears to be very difficult to enter without 'the right connections'. So the gap between school and art field seems to function as a strong filter that excludes those who have the least resources. Just look around: many emerging artists feel disoriented, lost, excluded and hopeless.
Let's talk about this. Not only to complain, but to find solutions. We urgently invite (former) students, school staff and cultural workers to:
HOW TO BRIDGE THE GAP BETWEEN ART SCHOOL AND ART FIELD?
Wednesday April 20th, 19h30-22h00
Monty, Montignystraat 3, Antwerp
Organized by SOTA & ex-students
Subscribe here and invite colleagues!
What can be done differently? How could this gap become a bridge? How can schools support their students to begin a career after they have graduated? How can the art field welcome newcomers into its ecology? How can all this knowledge circulate more? Could this be an opportunity to strengthen the solidarity that already exists within the field?
We start the evening with some (more or less) concrete proposals. We invite you to help to refine these ideas at different discussion/working tables, depending on your interest. We see this evening as a first step to develop concrete solutions, big or small.
You are not alone in this.
We welcome you deeply.