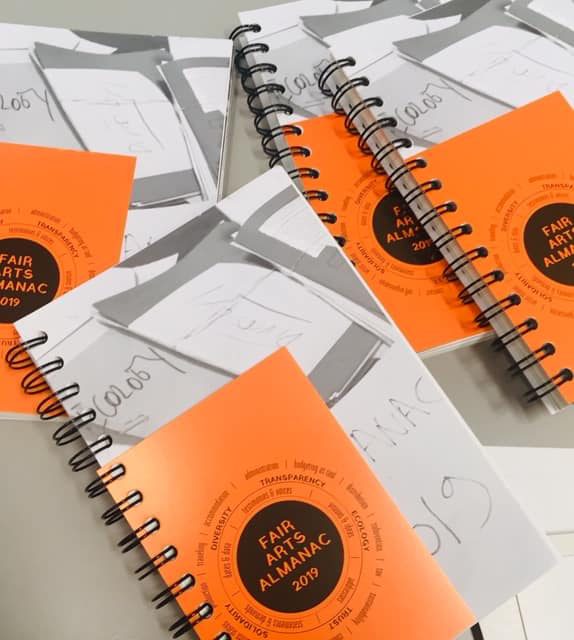 HOW TO GET THE ALMANAC
To buy a hard copy of the Almanac for 10 euros, you have two options:
You can reach out directly to State of the Arts and organize a delivery via e-mail with Nicolas at 

almanac@state-of-the-arts.net

 

You can go to buy a copy in person at one of these places: 

Passa Porta: 

Rue Antoine Dansaert 46, 1000 Bruxelles

WIELS: Centre d'Art Contemporain: 

Avenue Van Volxem 354, 1190 Bruxelles
To download your copy, you can click here: SOTA Fair Art Almanac 2019
ALMANAC WORKSHOPS
If you're interested, you can organize an Almanac Workshop with SOTA. SOTA is eager to spend time discussing the Almanac with others, so please read our text below and consider inviting us into your conversations.
The workshop proposes a discursive framework based on reading debatable, most probably conflicting texts from the State of the Arts almanac. Texts can be selected beforehand during the planning of the workshop, or they can be selected during the workshop on site. Texts can also always be offered by SOTA as a proposition or by you according to your needs.
Tailor-made to your situation, SOTA will propose methodologies to discuss selected texts in relation to one another and to the layered, intersecting contexts they awake in debate participants. In some cases, it may be necessary to take additional text or information in hand for the discussion.
The almanac is a tool embracing and including multiple voices as perspectives one can engage, and it's inherent diversity must be recognized and treated with attention to the complexity it conveys. Thus, two SOTA moderate the workshop and enter themselves in debate with questions, remarks, and/or personal experiences in order to discuss with participants the current situation around the interweaving topics illustrated by the almanac. In so doing, they will not hide their perspectives: They will share their perspectives candidly and open themselves up to both agreement and disagreement. (Perhaps contrarily, to provoke thinking and allow the complexity and contradiction of topics appear, the workshop is based on proposing different perspectives and approaches to the topics in question.)
The goal of the workshop is to understand the situations in which art exists or could be practiced and to advance debates on what needs to happen to ameliorate problematic situations.
All debates will be recorded and impact the writing of the next Fair Arts Almanac.
SOTA Almanac workshops were scheduled in the following places:
KASK Conservatorium

  Ghent, BE (29 April 2019)

ERG for the Transnational Alliance

at the

Contour Festival

  Mechelen, BE (19 May 2019)

P.A.R.T.S.

  Brussels, BE (21 May 2019)