March is the month of struggle. Does the existing art education system adequately prepare students for the challenges of living as an artist after graduation? We won't just discuss this big question with long keynotes. Instead we open an alternative school for one day with workshops that address practical and theoretical tools we miss in education today. From dealing with finances to empowerment through solidarity to activating our political potential, let's think together. A new curriculum aimed at fostering a sustainable and rewarding creative life is brought into being.
*Participants are required to choose one of the four workshop subjects when registering. Maximum capacity per workshop: 15.**This event will be held primarily in English. Within each workshop group, depending on the participants, there is the possibility of other languages being used.
Saturday, 27th of March, 13.00 – 18.00
Location: Online via zoom, you will receive the link after registration.
HOSTED AND SUPPORTED BY: Kunsthal Gent
13:00 – 13:20 Introduction, Collective Lunch
13:20 – 14:00 Discussion "Does art school prepare students for life as an artist?"
14:00 – 16:30 Workshops with breaks decided within each group
16:30 – 16:45 Dance Break
16:45 – 17:45 Discussion "What do students want to learn?" "What do former students wish they had learned?"
17:45 – 18:00 Closing Round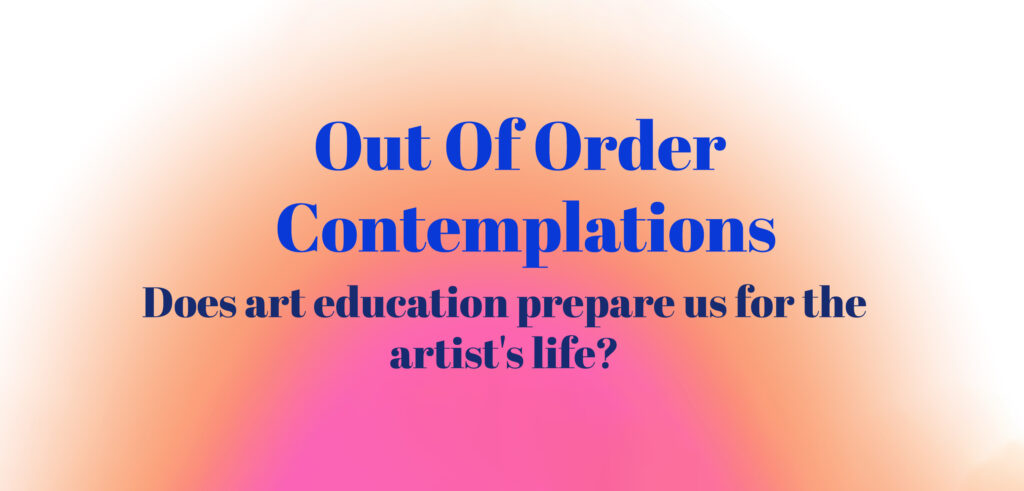 Workshops:
ECOLOGY (EN, NL, FR)
The ecology of art practices are not unlike forests, functioning through a web of interconnection and activities between other artists, institutions, schools, economies, politics, and human relations (including self-care) that support us through the emotional tumult of creative life.
We invite participants to reflect on this idea, first mapping out on paper our personal ecology, to then share and contrast with other peers reflections on the diversity of ecologies and identify what feels lacking. We offer each other ideas on how to nurture our individual and collective ecologies through personal experiences and ingenuity.
As a utopian exercise, we also work with our imagination to conceptualise a world unconstrained by present-day realities, in which art practices can prosper and grow sustainably.
MONEY (EN, FR,NL)
MONEY MONEY MONEY! Often the biggest source of stress for anyone trying to live and work as an artist, and yet also a topic that seemingly should be avoided in polite conversation. In this workshop we want to break this unwritten rule and start talking with each other about money: how to deal with it, how to deal without it, and how to deal with the feelings around it. In three interactive parts, we will work collectively on finding ways to reshape our relationship to money without selling our souls, and plant the seeds for new realities.
What role can you play?
Testing, switching, and repositioning roles artists face in relation to money in their creative life.
The question of value: What is my art worth?
Practical group exercise about how to value our work and ourselves – Feel free to bring a work you would like to use as an example.
Another economy is possible
We share examples of existing projects and initiatives that deal with money in a different way, and discuss what elements might work in our own networks.
POLITICS (EN, NL, DE, FR)
Being seen and being heard, individually and collectively. Experiencing connection through realising the shared views of different people. Seeing our similarities through defining and speaking out for ourselves.
In this workshop we reach out to the legislators of Belgium, to our fellow community members, and to ourselves through letters. We stop waiting for the right time to speak up and for someone else to put into words what we are thinking, feeling and experiencing.
We see writing as a political act and a tool against the tyrannies that mute us. Our goal is to become part of the shared consciousness, to have individual voices heard, and to work against the depersonalisation of the artist worker.
BACK TO THE FUTURE (EN, DE, NL)
An open workshop for everyone. It allows perspectives from students to mingle with perspectives from people who went through art school and who look back at this experience. In that way, we try to formulate what is missing in art education. The 4th room is a pool to discuss the main questions we address at the start of the day and will float between small exercises, exchanging of experiences, brainstorming and text generating. It can also become philosophical about the role of art in society.