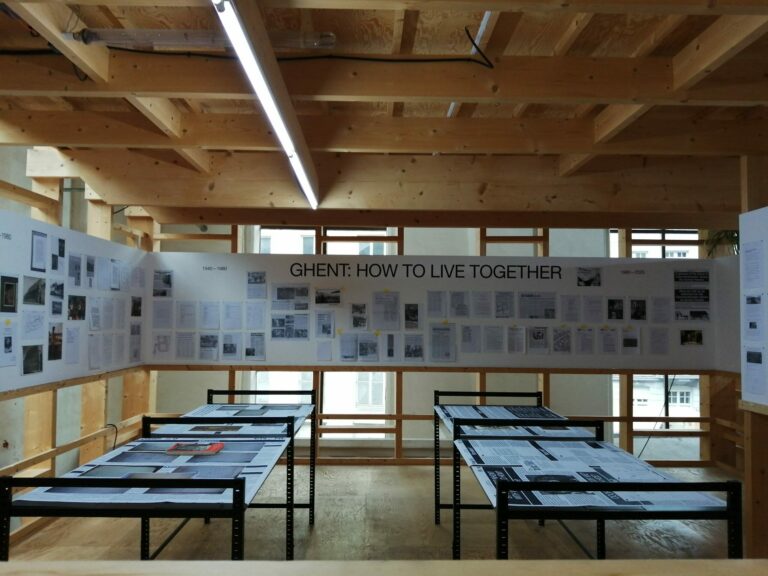 Friday 10th of december, 14.00 – 17.00 (application is not mandatory, the session starts at 14u!)
Jubilee and State of the Arts (SOTA) present:
Preserving art and heritage: a question of ownership?

Reading room and discussion proposed by Jubilee within the framework of the Fair Arts Almanac session for State of the Arts (SOTA). Official language: English 
This session has two main topics:
Reading room: Boris Groys, Art in the age of biopolitics, from artwork to art documentation, 2008
Collective reflection and writing: 'How shall we preserve contemporary art practices?'
This gathering takes place at Kunsthal Gent, parallel to the project GHENT: HOW TO LIVE TOGETHER by Grace Ndiritu in collaboration with Jubilee. It is no coincidence we propose to meet here as the Carmelite monastry embodies the question of how we've been dealing with questions of heritage preservation and property up until today.

Participants can also sign up for the public debate at Kunsthal the same evening (19-22h): Commoning, Property Law and Indigenous Land Rights in the Belgian Context, the fifth and final event in the context of GHENT: HOW TO LIVE TOGETHER.
Image: Grace Ndiritu
SOTA and the Fair Arts Almanac sessions 2022 
State Of The Arts (SOTA) is an open platform reimagining the art world today. SOTA believes the transition of an art world towards a fairer one can also serve as a catalyst for genuine change in society at large.
Since 2014 SOTA has discussed Fair Practice in the Arts along five different axes: solidarity, diversity, transparency, ecology and 'relationality' (trust). It is clear that these different aspects of fairness are deeply intertwined. Fairness deserves a constant, situated and societal debate. That is why SOTA developed the Fair Arts Almanac as a common tool at the heart of its activities.
The almanac 2022 will be created during a series of preparatory events. Throughout 2021, these events will take place on a monthly basis, always at different locations, about different topics and prepared by different groups – and are open to questions that live among practitioners these days, taking the sensibilities of the various seasons into account.