It promises to be an exciting year.
With the 2024 election in sight, lively discussions about the themes, for which we as a society bear collective responsibility, await us in the coming months: welcoming of migrants, high quality and inclusive education, health care, the much-needed redistribution of wealth, agreements around the future of our planet…
Could it be that speaking together in times of crisis and transition calls for new forms of conversation? Like before, SOTA commits itself to stretch the concept of dialogue, bring blind spots into the light and paint the unimaginable.
Join us!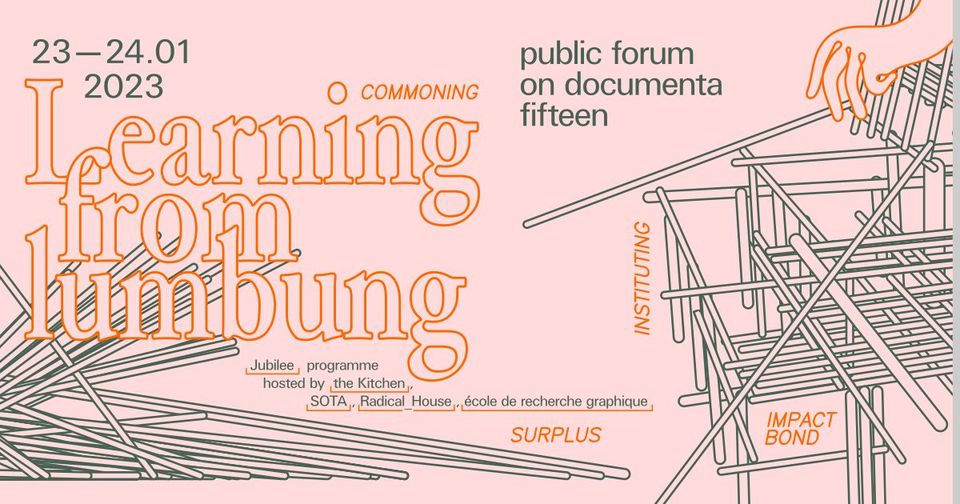 Learning from Lumbung.
Public forum on documenta fifteen
A Jubilee programme hosted by the Kitchen, SOTA, radical_house, ERG

MO 23/01 at 8pm @ The Kitchen (reservation recommended)
TUE 24/01 from 10am – 21 pm @ ERG
The Indonesian collective ruangrupa were the curators of the most recent edition of Documenta. They gave a central place to collective artistic practices. They introduced 'lumbung', an Indonesian concept that refers to the surplus stock collected in a rice barn, intended for common use. ruangrupa did not use the concept as a metaphor, but tried to put lumbung into practice.
In doing so, documenta fifteen questions the entire aesthetic and commercial apparatus of the Western art world, and thus the art paradigm with which 'we' in the West – often against our will – work. Our tastes and values, inherited from European modernity, were exposed to more worldly concerns in Kassel. Does that mean the end of art as we have known it? Not necessarily, but it certainly opens up opportunities for discussion and critical friction.
Jubilee organises this public reflection together with The Kitchen, State of the Arts (SOTA), radical_house and école de recherche graphique (ERG), four organisations that emanate collectivity and reflect on the place of the arts within society. Jubilee initiated Learning from Lumbung from an interest that it has in collective research trajectories reflecting and acting on the ecology of artistic practice.

Participants:
ruangrupa (Iswanto Hartono), Subversive Film (Mohanad Yaqubi, Reem Shilleh), ook_ (reinaart vanhoe & Mariëlle Verdijk), Beursschouwburg (Melat Gebeyaw Nigussie, Ellen De Bin), Emily Rosamond, Mi You, Hans van Houwelingen, Jack Engelbrecht, Bram Kuypers, Mihnea Mircan, Noor Abed, Rachida Lamrabet, Michel Khleifi, Joachim Ben Yakoub, Els Silvrants-Barclay and the members of Jubilee.
Moderation: Katrien Reist (Jubilee, State of the Arts)
FULL PROGRAM AND ALL DETAILS HERE
Call for Scholarship
Oproep SOFAM beurzen / Call for SOFAM scholarships / Appel à candidatures pour les bourses SOFAM 2022
For whom? Professional visual artists active in Belgium (in photography, painting, installation, sculpture, illustration, graphics, graphic design…), who are members of SOFAM, or intend to join. (An artist can join in case of selection for a scholarship after the results of the jury).
Deadline? SA 21/01/2023 (midnight)
Find the complete information here.
Save the Date
THU 02/03/2023, whole day
Antigone Kortrijk
A Fair New World?!
The world has changed greatly in recent years. This requires resilience, togetherness and solidarity in the artfield. In the trajectory A Fair New World?!, Kunstenpunt set out to find out how we can shape a new world together through practices of solidarity.
On March 02, 2023, Kunstenpunt will present a day of workshops, presentations, conversations and insights generated by the trajectory and an accompanying publication. SOTA will be here to present the Common Income trajectory.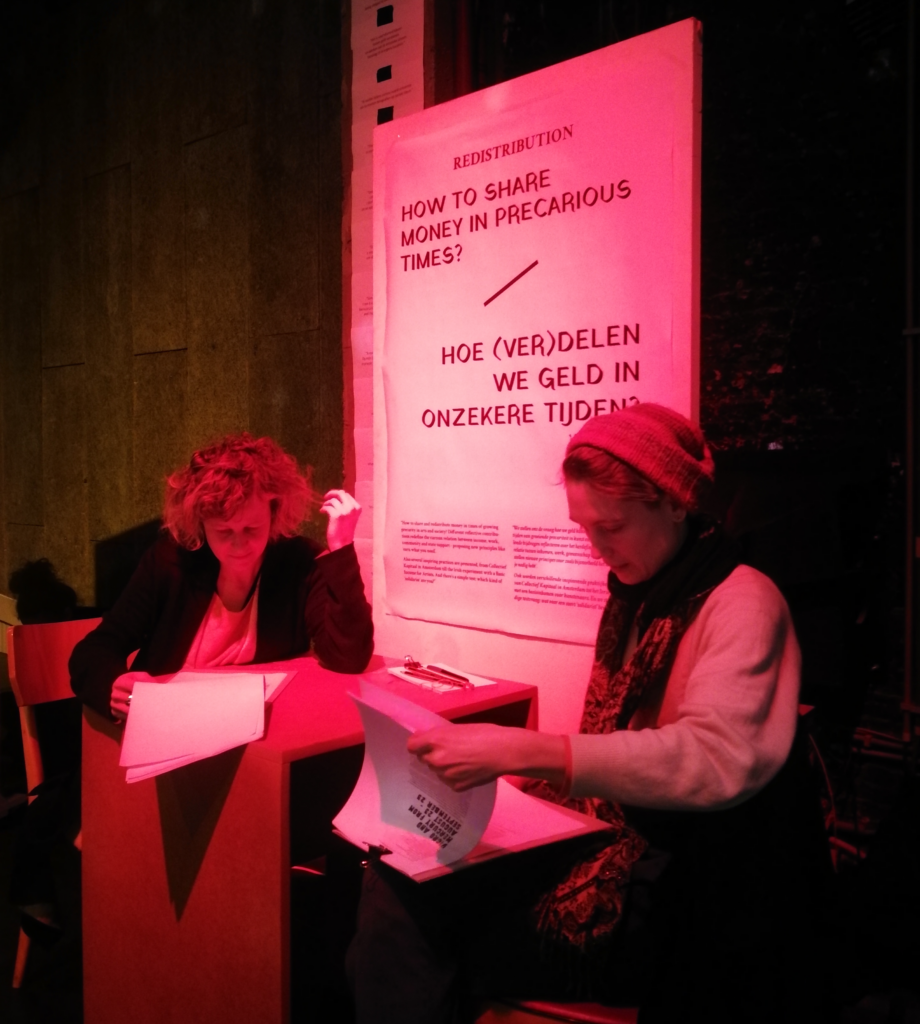 SA 04/03/2023 from 07h30 – 10h pm
Beursschouwburg Brussel
Thoughts for a fair future
Preview on the new Fair Arts Almanac

This presentation offers a lively insight into the many ideas and discussions that comprise the second edition of the Fair Arts Almanac. In a scenography of questions and chapters, we dive into some inspiring proposals around social, economic, environmental and political questions in the arts. Consider it a preview of a book. You can't turn the pages yet, but you can already engage with it.