Dear all,
Last Tuesday more than 80 people from all corners of our #stateofthearts came together to kickstart 2020. It was wonderful to see how everybody reaffirmed their commitment to our cause. We welcomed a few fresh faces, which is great.
SOTA has always been about bringing a great diversity of voices to the table. We will need all of you, to be honest. The debate about the #stateofthearts has become a debate about the #stateofsociety . That's why we need to be as well-informed and plain spoken about the issues as possible. This conversation will not slow down. It will, on the contrary, pick up speed as we will see more negative effects of our government's policies in the months and years to come.
So, let's get ready. Let's be bold. Let's do what we need to do. Starting by reading this newsletter.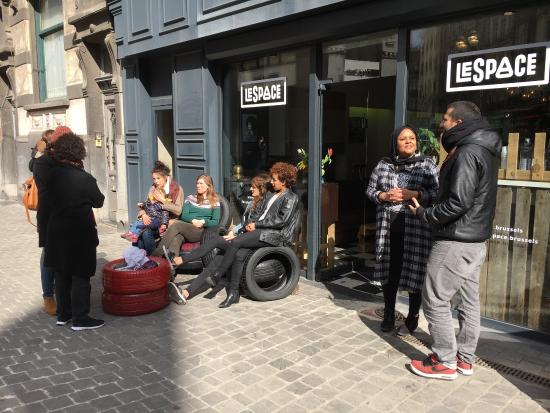 CULTURE HOUSE LE SPACE MUST LEAVE THE DANSAERT DISTRICT
The hybrid culture house Le Space, located in the centre of Brussels will be evicted from the building where it was founded five years ago. State of the Arts is helping to safeguard a future for this small and inclusive organisation that has, since its founding, been working in precarity. During the weekly meeting, a working group was formed that is committed to this. Come and join us to occupy Le Space on 1 & 2 February, #OccupyLeSpace. Read more about this in the facebook event.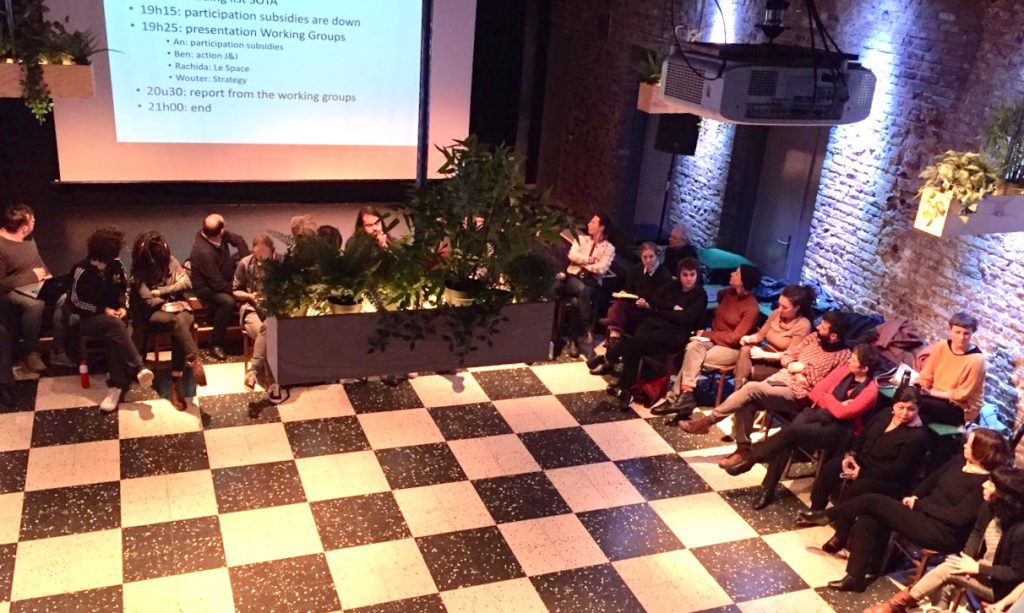 NEXT MEETING ON MONDAY 13 JANUARY
Monday we will see each other again in Beursschouwburg for our weekly open meeting from 19h00 till 21h00. Invite your friends and colleagues via the facebook event.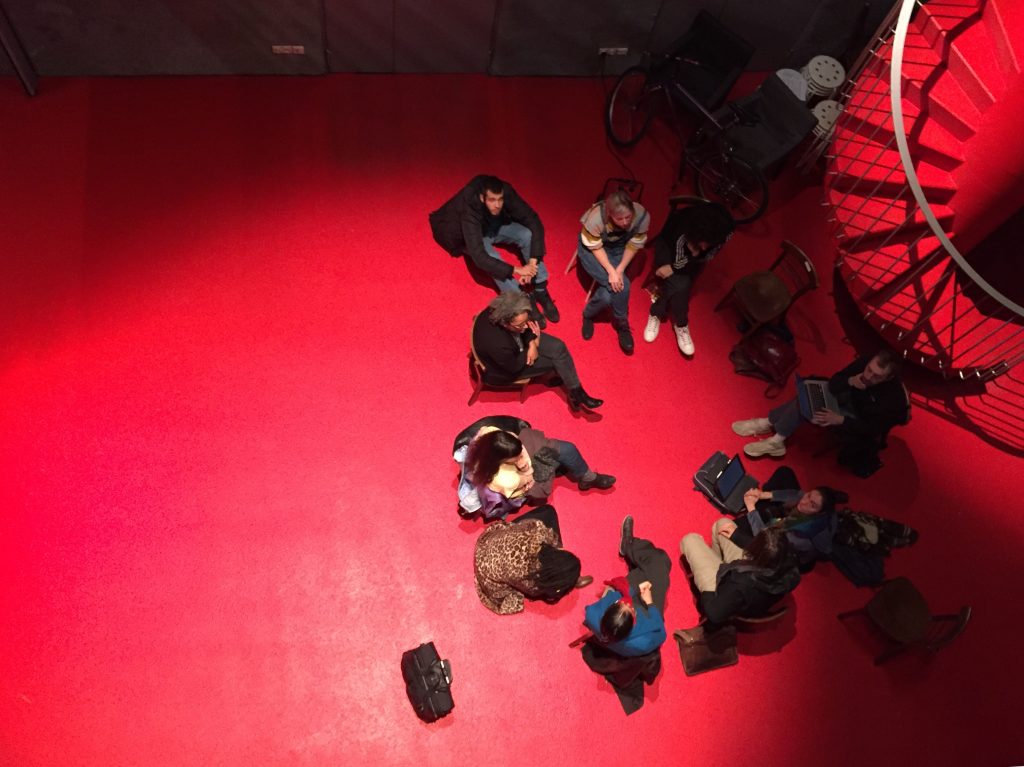 MISSED LAST SOTA MEETING?
Together with An Van Den Bergh from Demos we came up with actions against the abolition of the Flemish subsidies for participation projects for disadvantaged groups. A strong working group was formed around Rachida Aziz to help ensure a future for Le Space. We talked about the different pillars within our strategy and decided to apply civil disobedience for specific actions. Read the full report of the meeting on Tuesday 7 January.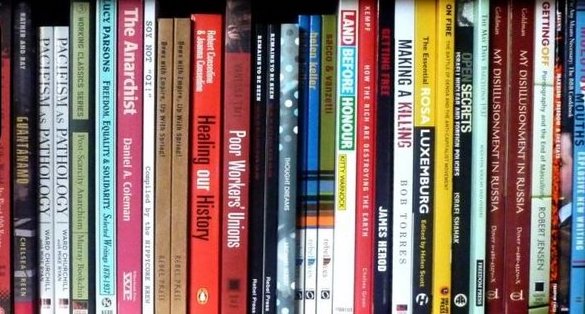 RADICAL READING LIST
In recent weeks a lot has been said and written about the changing times in which we live. That is why we are starting up a library of references – with titles of books, links to articles, … that will inspire us and help us meet the challenges we face.
That to-the-point analysis, that poem that gives you courage, that inspiring talk you saw on YouTube, that book someone was talking about on the train, that one column in the newspaper that changed your mind… Share it with us and put your sources of inspiration in this list. Soon you will find the reading list on our website.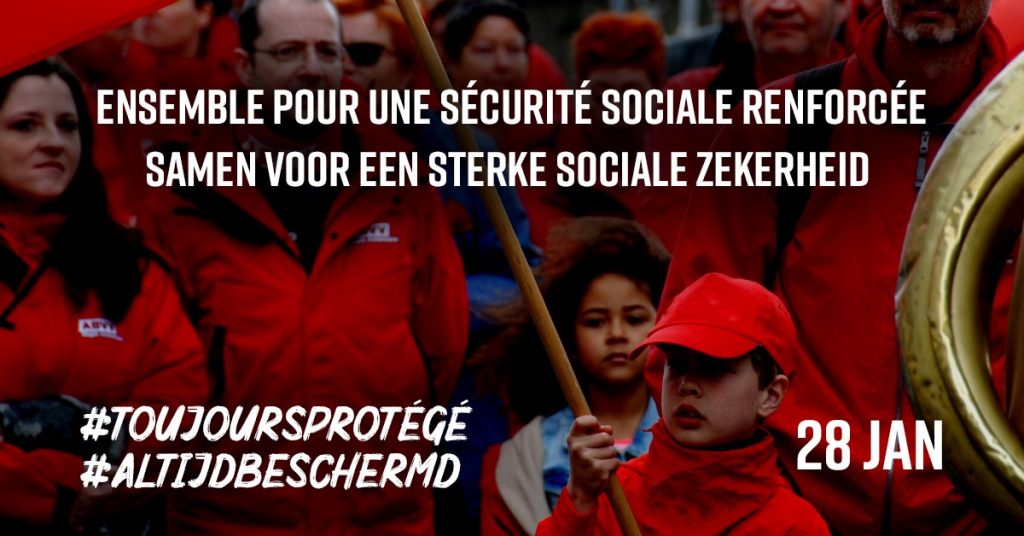 TOGETHER FOR STRONG SOCIAL SECURITY
On 28 January, the FGTB is organising a major national event for strong and fairly financed social security. It calls on all middle field organisations, the other trade unions, women's organisations, OCMWs, non-profit organisations, the networks against poverty, youth and cultural organisations to join. Join the State of the Arts on the streets with the national #AltijdBeschermmd-manifestatie. Download the pamphlet here. find out more fb event