Dear friends of State of the Arts,
On November 12th there were 2,000 of us in the Beursschouwburg.
Never before have so many artists come together in one place.
Because this government's vision of the future does not make a future, but crushes one.
For so many people.
We light the fire, we get compliments from all sectors. In the meantime, social workers, cleaners, nurses, civil society, public broadcasters, students… all jumped on the cart. And now even the railway staff 🙂
Never before have we, artists, been able to create so many fireworks together.
One more time this year we are going to overrule the parliament!
All of them!
The government hopes that we will finally stay at home, while they vote on the budget.
So be there with us. And also invite the people around you. One more time for this year.
What can you do?
1) Be there with us (the strike doesn't help, but trains are running, check the NMBS app)
2) Share the facebook event now and/or email or hang out the poster.
3) Bring your message or anything else that makes noise! (and learn our chorus)
4) Welcome to our Citizens Parliament from 9:00 onwards.
5) If you really can't be there, please support State of the Arts with a contribution for the costs that have been made on BE94523081066514 – BIC TRIOBEBB.
This is more than a protest.
It is a symbol.
You don't miss your premiere, do you?

Much love,
State of the Arts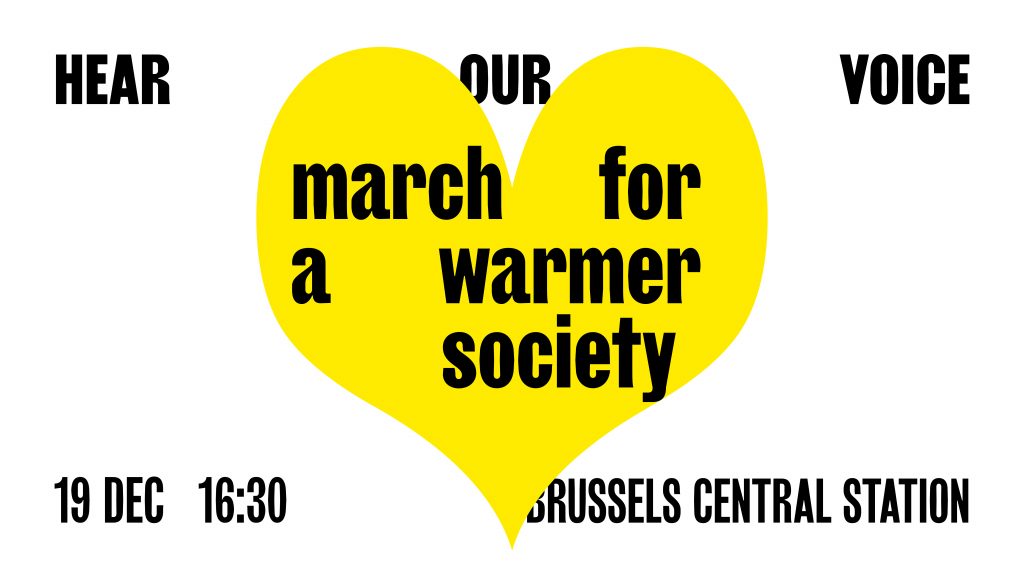 16:30 Gathering at Brussels Central Station
17:00 March to the Flemish Parliament
17:30 We make ourselves heard very loud, even in parliament (speeches and music)
19:00 Hear my voice mega choir at the Flemish Parliament
State of the Arts in 2020
After Dec 19 we all rest for a while. On Tuesday 7 Jan at 19h30 there is again our weekly open meeting in Beursschouwburg. Welcome! It will still be necessary…