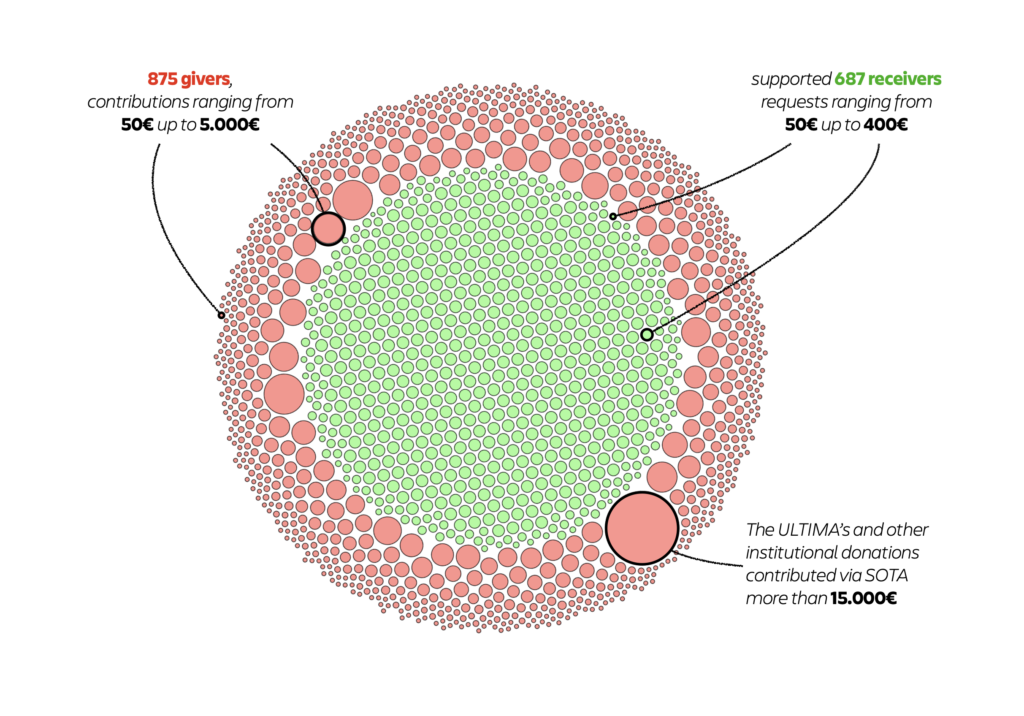 UPDATE SOS RELIEF
The world is still in disarray, and new emergencies are appearing. Our goal of helping people in urgent need is proving ever more difficult because we still have a waiting list of receivers from the past waves of the crisis.
ONE MORE PUSH!
Since we started SOS Relief in April 2020, €230,000 has changed hands. A total of 874 people have given to 783 people in need. However, 88 people are still waiting for a combined total of approximately €30,000.
To put this number in perspective, consider this:
1. If 600 people each give 50 euros, we meet our target.
2. If 300 people each give 100 euros, we meet our target.
3. If 150 people each give 200 euros, we meet our target.
If you feel you can contribute to closing the gap, please CLICK HERE TO GIVE.
PAUSING THE REQUESTS, NOT TURNING A BLIND EYE!
We have made the difficult decision to pause requests until everyone who has already asked for relief is matched. We know that there are many people still in need of support, but if someone puts in a request now, they would have to wait around 6 months. This would not be emergency relief, and it creates an expectation that we cannot meet.
We are not turning a blind eye to people in need. The request tool is now open for people in need to share their stories with us. Testimonies of individuals are crucial to help us make policymakers aware of the realities people live.
NEW AND IMPROVED.
Our next assignment is to restructure SOS Relief to make it more sustainable. This is the project for the new year: decentralizing the workload, solving the problem of the waiting list (i.e. build up of requests to receive), and making a shareable, open source version of the tool that other communities can use.
In the meantime, we are going all out to close the gap! Please join us again if you can.

SURVEY SUPPORT MEASURES
Dear fellow artists, Since COVID is not over yet, we would like to evaluate the various support measurements so far. Maybe we can weapon ourselves better for the future….Thanks for taking 10 minutes to support this survey HERE!