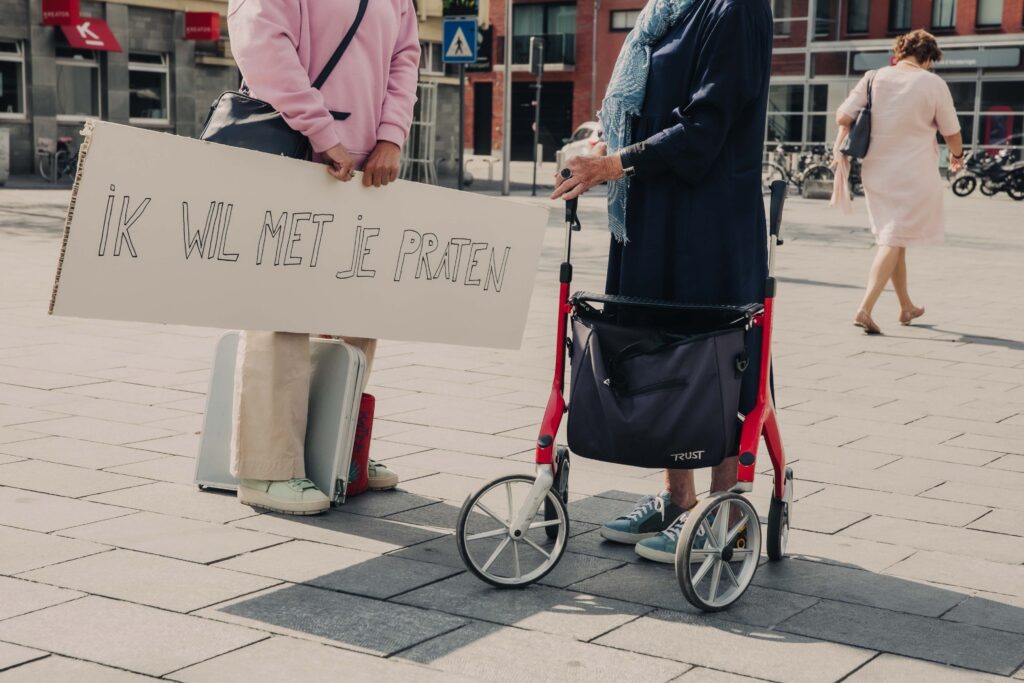 With Samenspraak the residency of SOTA at Monty stops. For one year, we had one long dialogue about art and society and fair practice next level. Now we share the fruits of it. Would you like to get a taste of it?
SOTA doesn't stop at all. We already share the most vibrant ideas from our coming Fair Arts Almanac. We present a toolbox to have conversations outside of your bubble. And we present our new open structure! Do you want to be part of SOTA?
Welcome to SAMENSPRAAK
A weekend full of dialogue, art and society
16, 17 and 18 December in MONTY, Antwerp
What are the next steps towards a more fair (art) world? How can we engage, as an art field, in a fruitful dialogue with society, policy makers, and our audiences? And above all: with each other? Especially in times of energy crisis, burn-out, cuts on project subsidies, right-wing populism… our conversations are necessary. With lots of performance in between. By Leentje Vandenbussche, Elly Van Eeghem, Sébastien Hendrickx, Sara Oklobdzija, Myriam Van Imschoot & YOUYOU Groep, Anna Schlooz, Sarah Baur…
And don't miss this:
Saturday 17 December (13h-18h): Tools for a fair future
Even our minister pleas for 'fair practice' nowadays, but does that mean that the struggle is over? This afternoon offers a lively insight in the many ideas and discussions that will be published in the Fair Arts Almanac in 2023, a SOTA publication with 12 chapters, 100 hot topics, 50 writers and many tools. See it as a preview of a book. You can't turn the pages yet, but you can talk with it.
In five round tables, guided by the editors of the Fair Arts Almanac, we dig into some inspiring proposals on social, economic, ecological and political questions in the arts (and beyond).
We also present the new SOTA structure from 2023 onwards, as a collective platform for artists and cultural workers that want to start an initiative for a fair art world. Aren't you curious on how you can get involved in our new open structure? Welcome!
Sunday 18 December (14h-17h): Election talks, the big rehearsal
Exactly 500 days from May 2024, super month of the next national elections, Door to Door invites the left to first engage in conversation with each other: artists and trade unionists, community workers and peace activists, anti-racists and progressive politicians… To what extent do we want/need to engage in dialogue with fellow citizens from other social circles? And how do we do this?
Today we are already practicing with each other. Not to express our big 'this is how it is', nor our big analyses. But to talk and listen and find common ground.
'Election Talks' begins with Door to Door sharing its methodologies after two years of research in the field. Then we engage in one-to-one alternating conversations, as an exercise. Finally, we come to an equation together: what do we want / can we do together, using dialogue as a methodology?
And there's much more during Samenspraak! Four performances, two movies, two evening of a world kitch… CHECK THE FULL PROGRAM HERE